The Dobrato is designed and hand-assembled by Kent Viles at Dobrato Resophonic Guitars in Gunnison, Colorado.
I'm happy to introduce my latest model from Dobrato Resophonic Guitars! Model KV953B. The body is Bell Brass, great tone with excellent low end and rich full Bass! I incorporate my unique B Bender / Vibrato system and Piezo electronics. This model sounds incredible. I'll be producing a video demo soon.
Finely Crafted
Assembled by Kent Viles, Dobrato Resophonic Guitars.
Rich Tone
The Dobrato has a beautiful, full-bodied, reverberate voice, combining the classic sound of a resophonic guitar with the B Bender / Vibrato tonal variations. In this unique build, the Dobrato retains its natural deep and rich acoustic tone when amplified.
Tom Petty & Mike Campbell
of the Heartbreakers
Jimmy Buffett (Owns Two)
Jason Isbell
David Hidalgo (Los Lobos)
Billy Gibbons (ZZ Top)
Mike Gordon (Phish)
Mac McAnally (Jimmy Buffett)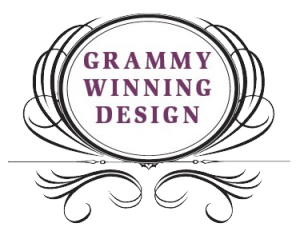 Tony Furtado
Brendan Benson
Michael Martin Murphey
and many more…
How Does the Dobrato Produce Its Unique Sound?
Model Number: Kv953 *Patent Pending
The World's First Acoustic/Electric, round neck Resophonic Guitar with our unique B Bender / Vibrato System built into the vibrato arm. Allows the B string to be pulled to C# using the Vibrato arm pulled, very simply, sideways.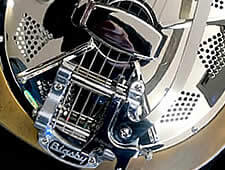 Every Dobrato Resophonic Guitar is hand assembled by Kent Viles. All are signed and dated on my internal label.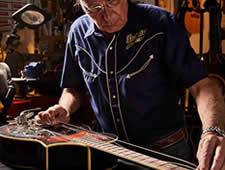 I incorporate high-quality bell brass for the body, Padauk fretboards, hand spun 9 1/2″ aluminum cones, ebony on maple saddles.  All frets are leveled, polished, and fret ends rounded and smoothed taking care to produce close, comfortable action.  Our unique B Bender / Vibrato's are hand fabricated and I install the PRO-RES-BIS Biscuit pickup by Fishman.  I use perfected resophonic guitar construction techniques paying special attention to setup and playability.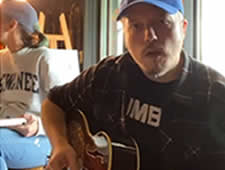 See what Dobrato Owners are saying
Use hashtag #Dobrato on social media to show off your Dobrato.  See photos, stories, and videos of real owners.
Listen to the Sound
I spent 5 years building prototype body shapes to achieve our signature rich tone.  The sounds you create are limited only by your imagination. The Dobrato is a unique new "voice" for blues, country, fingerstyle, bluegrass, pedal steel effects, and jazz.

Dobrato Details
This is my original design, hand assembled at Dobrato Resophonic Guitars in Gunnison Co.  Unique Resophonic, custom B Bender-Vibrato system, Acoustic / Electric, voiced fuller and deeper than most Reso's.  Explore pedal steel runs, add vibrato, create your own voicings!  Some Dobrato performers include Jason Isbell (used on and received a Grammy for "If We Were Vampires")  Mike Campbell, Jimmy Buffett, Tom Petty, David Hidalgo, Mac McAnally, Billy Gibbons, many, many more.  Includes fitted Boulder Alpine Bag.  The Dobrato is a joy to play, I focus on very playable setups. Please call with any questions about the design.
Kent Viles, 970-641-2747.
How Does the Dobrato Play?
It is tuned and played like any guitar. All resophonic guitars have a fairly distinct tone, The sound is generated by an aluminum cone under the cover plate. Most are fairly metallic in tone, however, I spent a number of years building prototypes to get a richer, deeper tone from the instrument.
It sounds beautiful and suits many styles of music.
– Kent