Dobrato General Info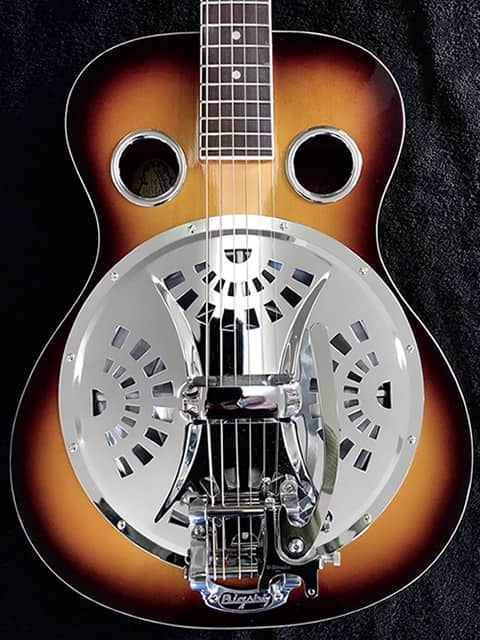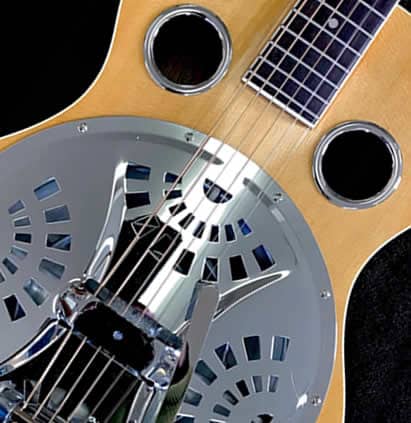 Dobrato Resophonic Guitars
Dobrato General Information
The World's First Acoustic/Electric, round neck Resophonic Guitar with our unique B Bender / Vibrato built into the vibrato arm. Allows the B string to be pulled to C# using the Vibrato arm pulled, very simply, sideways. The Dobrato has a beautiful, full-bodied, reverberate voice, combining the classic sound of a resophonic guitar with the B Bender / Vibrato tonal variations.
In this unique build, the Dobrato retains its natural deep and rich acoustic tone when amplified.
The sounds you create are limited only by your imagination. The Dobrato creates a unique new "voice" for blues, country, fingerstyle, bluegrass, pedal steel effects, and jazz.
We hand assemble each guitar with high-quality materials & perfected resophonic guitar construction techniques paying special attention to set up and playability. We incorporate high-quality cones, biscuits, hand-carved saddles, our original B Bender / Vibrato arm, and a Fishman PRO-RES-BIS pickup system.  Three-year warranty. Hand-assembled with care at Dobrato Resophonic Guitars, 235 N. Main St.,  Gunnison, CO 81230.  Phone 970-641-2747. Email us through our contact form.
Dobrato Resophonic Guitar Specs
Listen to the Sound
Click the photo above to listen to a sample of the amazing Dobrato sound.